---
Arctic Watch
Things to note when scanning this page:
Many of the graphs at the top of the page are automatically updated daily or at least monthly – so it's worth coming back often. More fun than watching the gyrations of the stock market! :)
For Arctic trend addicts, there's an even bigger collection of graphs at:
https://sites.google.com/site/arcticseaicegraphs/

Area of sea ice: The area of sea ice has now fallen below the lowest levels previously recorded for this time of year (2010 and 2007). It is not yet at all clear what the overall melt trend will be this Arctic summer.

Volume (total quantity) of sea ice: The 4th graphic below showing the Arctic sea ice volume indicates that
the sea ice volume in the Arctic is also at the lowest level ever recorded for this time of year.
Over the last decade, the trend for sea ice volume (that is, the total quantity of Arctic sea ice)
has been for accelerating loss - the sea ice is getting thinner, more fragmented and more heavily decayed,
this is happening faster, and a smaller and smaller area remains covered with ice during the height of the melt season.



Arctic sea ice extent (area) - Multi-year, full-year data – Source 1:
Above is from: http://www.ijis.iarc.uaf.edu/seaice/extent/AMSRE_Sea_Ice_Extent.png

Arctic sea ice extent (area) - Multi-year, full-year data – Source 2:
Above is from: http://www.iup.uni-bremen.de:8084/amsr/ice_ext_n.png
----
Arctic sea ice extent (area)

Daily update throughout the year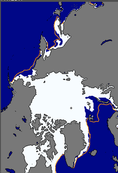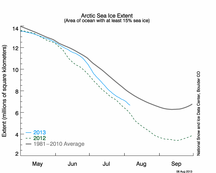 Sea ice data updated daily, with one-day lag: extent (left), time series (right). Click for high-resolution versions. Data information —Credit: National Snow and Ice Data Center
The latest data on sea ice extent and concentration
This map (above) will be produced at a higher resolution shortly once data from a new satellite is made available:
http://www.iup.uni-bremen.de:8084/ssmis/arctic_SSMIS_visual_small.jpg
Have a look at the animation that I've made using the daily snapshots of the Arctic sea-ice concentration, above. The animation makes it easier to understand the dynamics of the sea ice, distinguishing between wind effects compared to melting effects. Click on the link below:
http://www.green-innovations.asn.au/Animation-2011-sea-ice-concentration-from-01-Jun-11.htm
Minimum Arctic sea ice area, 1979 to 7 September 2011:
(Not auto updated – a static graphic)
(Note: the 2011 data is not the seasonal minimum)
Minimum Arctic sea ice extent, 1972 to 8 September 2011:
(Not auto updated – a static graphic)
(Note: the 2011 data is not the seasonal minimum)
-----
Arctic sea ice volume:
(auto updated daily)
Arctic sea ice volume "anomaly" (updated monthly)
(This graph shows how the ice volume varies each day
compared to the 1979-2009 average for that day.)
Arctic sea ice volume: Multi-year, full-year data:
(Not auto updated – a static graphic)
Minimum annual Arctic sea ice volume: 1979 to 31 August 2011:
(Not auto updated – a static graphic)
(Note: the 2011 data is not the seasonal minimum)
2010:




Have a look at the animation that I've made using the daily snapshots of the Arctic sea-ice concentration, above. The animation makes it easier to understand the dynamics of the sea ice, distinguishing between wind effects compared to melting effects. Click on the link below:

http://www.green-innovations.asn.au/Animation-2010-sea-ice-concentration-from-24-Jun-10.htm




-----




See another Arctic animation – very photo realistic and dynamic
http://arctic.atmos.uiuc.edu/CT/animate.arctic.bandw.0.html







For an explanation of what's happening in the Arctic see the online video (1 hour) at:

http://video.hint.no/mmt201v10/osc/?vid=55&ti=4







29 October 2009: The graph below is not for the average punter. It is an overlay or mash up of two graphs taken from the Colorado University's National Snow and Ice Data Center website - specifically their Arctic pages.

The 2009 Arctic melt season, driven by the northern warm season, has just passed its peak and the ice growth has started again.

The graph below gives an idea of how the current 2009 Arctic melt compares with 2007 (the current world record melt year), and with 2008 & 2005.

The 2009 peak ice melt was at the time the third biggest on record.




26 September 2008: The graph below gives an idea of how the 2008 Arctic melt compared with 2007 (the current world record) and 2005 and 2006. 2008 is now the second biggest melt in recorded human history. The amazing, record breaking rate of loss of sea ice, very late in the melt season, meant that the 2008 melt came close to catching up with the 2007 melt. The 2008 point of minimum ice extent was 12th September. An explanation of why 2008 differed from 2007 can be found at:
http://nsidc.org/arcticseaicenews/2008/092408.html





The graphs below shows the Arctic sea-ice extent at the minimum last year (25 September 07) and one day before the 2008 minimum (15 September 2008).

2007

2008








100 year trend in Arctic sea ice

The graph below suggests that the systematic Arctic ice melt perhaps began in the early 1950s.

You can get the graph from:
http://arctic.atmos.uiuc.edu/cryosphere/IMAGES/seasonal.extent.1900-2007.jpg

See also:
What the Arctic might be like some time in the next 10 years, in late summer
For campaigns to restore the Arctic ice see:
Beyond Zero Emissions
(for a practical plan for zero emissions in 10 years plus CO2 draw down)
---
Information on both poles, including Antarctica
Climate indicators for the poles:
Polar climate indicators from NSIDC
Most recent daily sea ice conditions
---
Information on Antarctica - sea ice loss and loss of the West Antarctic Ice Sheet
More information:
http://www.newscientist.com/article/mg20227036.400-driller-thriller-antarcticas-tumultuous-past-revealed.html?full=true
http://www.nature.com/nature/journal/v458/n7236/abs/nature07809.html
---
Author: Philip Sutton
First posted: 2008
Content updated: 19 August 2012
Format updated: 19 August 2012
Feedback & Enquiries see: Philip.Sutton@green-innovations.asn.au